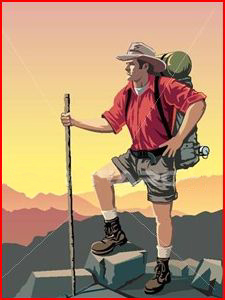 Backpacking 101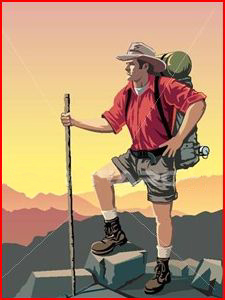 Troop 359 Backpacking page
On this page you will find all info you need to participate in our Troop High Adventure and Backpacking Program.
This is also your page if you are working on the Hiking and/or the Backpacking Merit Badges:
First contact your Merit Badge Counselor, in our Troop it is Mr. Hale

Backpacking Merit Badge

Backpacking Merit Badge Book Backpacking Merit Badge Worksheet

Hiking Merit Badge

Hiking Merit Badge Book Hiking Merit Badge Worksheet

Lets start with the Guidelines of the Troop Program:
Backpacking is a different experience than most have had the opportunity to enjoy! It IS more physically demanding, but the pay out is going somewhere or doing something that most "car campers" shall NEVER see or do.
Troop 359 Backpacking Program requirements:
All Scouts, Parents & Siblings are eligible for Troop 359's Backpacking program. However there are certain requirements that must be met before anyone is allowed to participate in the adventures ahead of us in the World of Backpacking. (Links for all forms are below the requirements.)
1. The most important is Physical Fitness and Endurance.
Physical Fitness
a. Must have current Medical Physical Form on file with the Troop. As well as a completed Medical Concern Form.
(Medical Concern Form)
b. Must complete at least (1) hike of no less than 7 miles with a fully loaded Day Pack or Camelback.
Endurance
a. Must complete at least (3) 5-7 mile Hikes with a Fully Loaded backpack (loaded for a weekend campout)
2. Personal Gear - This is a VERY important requirement.
a. All gear must be approved by the Troop and be of High Quality.
(The quality of the gear is important since it can make or break a weekend Pack trip)
b. Each person must pass a "shake-down" gear inspections in order to prove you can properly pack for this type of adventure.
(TROOP APPROVED PACKING LIST)
(SURVIVAL KIT)
3. Buddy System
The Buddy System is a critical component of this program.
This will keep everyone safe and the Buddies will share the load when in comes to carrying food and gear. Only one of the buddies needs a Camp stove. While the other buddy may purchase a camp fly.
One will carry food and cookware while the other will carry the tent, and so forth....There is no Patrol structure during the Backpacking adventures.
The buddies will work at setting up there camp and food preparation together. Most of our scouts have backpacking tents however each tent is capable of holding two youth's.
a. Buddies must be someone you can get along with and work with through the duration of the trip.
b. The buddies are also responsible for "watching out" for each other.
Lets all remember this is supposed to be fun. During our trips we will get to see things that most people never see because they wont get more than 10 feet from there cars.
Happy Trails.......................